As we all know, things don't always go as planned...
We were at a hospital site doing regular underground utility locating in a parking lot for the construction work there. While our technicians were busy locating all the utilities out there, our client representative on-site approached them asking whether they could locate some electrical conduits embedded in the concrete floor inside the hospital.
Apparently, there were also some construction work going on in the basement of the hospital and some electrical conduits were unexpectedly encountered. The construction work there had to be stopped and an emergency concrete structure scan was needed. Fortunately, our technicians had theconcrete structure scanning equipment with them and they started the concrete scanning work immediately.
After a long day, both the work inside and outside the hospital was done and the day was saved!
From time to time, we get such emergency locating requests while on-site. Sometimes it's the opposite situation: we are scheduled to do concrete structure scanning and then we are needed to do regular underground utility locating as well.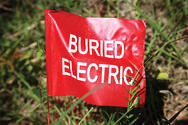 Things don't always go as planned and there could be unexpected things happening during construction and the underground utility locating projects. All of our technicians are equipped for all underground utility surveying needs and prepared for emergency locating requests as well.
Whether you schedule concrete structure scanning or underground utility surveying, we are prepared and ready each and every time to provide Peace of Mind!
What should you know about the equipment that we carry? Find out in our Utility Locating E-Book!