Electromagnetic Induction (EM)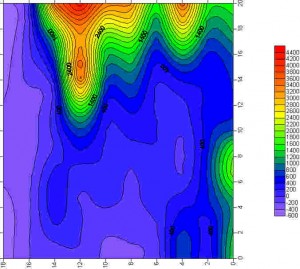 Geophysical, geological, archaeological and environmental professionals require a reliable and accurate means for soil evaluation and structure location found underneath the ground.
Utility Survey uses the GSSI Profiler EMP-400 multi-frequency electromagnetic induction profiling system. This system allows the flexibility of environmental profiling with up to 3 frequencies simultaneously; from a 1000Hz to 16000Hz.
Profiler data can be used to quickly narrow down the field of search for follow up Ground Penetrating Radar (GPR) investigations or as stand alone data to be plotted on the in-field PDA or downloaded into a laptop for further analysis.
EM Profiling is considered by many companies for their environmental assessments, plume mapping, landfill delineation, conductivity and UST/Large structure location. With the flexibility of the multi-frequency EMP-400, any geological or environmental technician can have confidence that Utility Survey's trained Technicians will be able to supply tangible information that can only benefit their clients.
Contact us for more information on Electromagnetic Induction and it's benefits.
Find out more about the process we follow in our proprietary
"10-Step EM-Profiler Protocol™".