You might be surprised how many people are interested in knowing what colors we use for a utility markout... I know we are continually surprised at the interest.
In fact, we have gotten so many requests for an explanation of universal color codes for utilities, we decided to answer them here.
They have often been referred to as survey color codes, survey flag colors, color codes for underground concrete, utility location pain codes and utility locate color system.
The colors and what they are used for:
There are 2 additional colors that are not widely used in our line of work, but are used in the construction and survey field. White is often used by contractors and is a color that we are interested in because that gives us a better idea as to where the proposed digging, cutting, or construction will take place. Pink is strictly used by land surveying companies to state where the temporary survey markings are.
The color codes for locating utilities, conduit or rebar in concrete can present slightly different colors depending on the surface. Most often used are the colors red, yellow, blue and black. This is because rather than flags or paint, chalk or a wax crayon is often used and the colors these are produced in is limited to these basic 4 colors.
But why do they matter to you?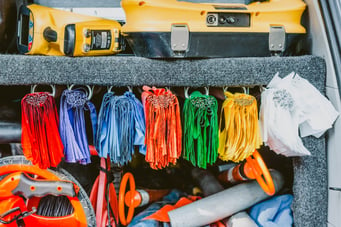 Depending on the work you do, that answer could vary...
If you are an

excavator

or an

environmental consultant

about to do soil boring, you are very interested in what is located below the ground you are about to dig into. It could cost you the job or even possibly your life if its not correct.
If you are an engineer

or

architect

, maybe the results of these colors on the ground will completely change some of the design you have already done.

If you are a homeowner, this might just explain the colors you see around your neighborhood.
Regardless of your particular line of work, these colors should matter to you!
The key to getting the most out of the colors is not only knowing what they mean, but having a trained technician explain to you where and why they were used.
Each of our technicians has been trained according to and must follow our unique "10- Step Utility Locating Protocol™".
Click the link below to get your copy.
Copyright Utility Survey Corp. 2015 All rights reserved.